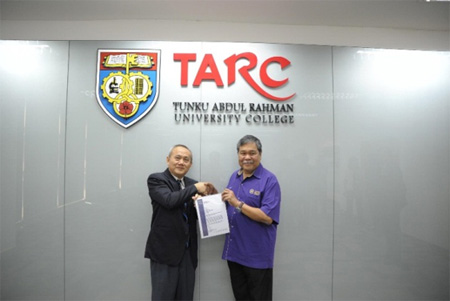 Dato' Ts Abd Radzak Abd Malek (right) presenting Datuk Dr Tan (left) with the letter of accreditation from CILTM .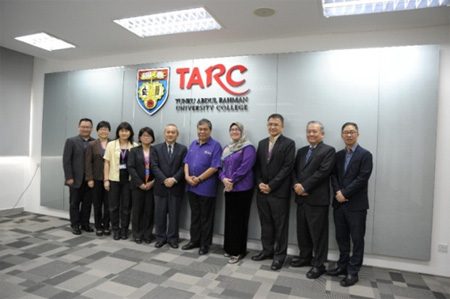 Group photo of all present during the presentation of letter of accreditation. (From left): Mr Johan Lim Kii Geat, Associate Dean, Department of Management, Faculty of Accountancy, Finance and Business ('FAFB'), Assoc Prof Say Sok Kwan, TAR UC Vice President, Assoc Prof Dr Ng Swee Chin, TAR UC Vice President, Ms Wong Hwa Kiong, Dean of FAFB, Datuk Dr Tan Chik Heok, Dato' Ts Abd Radzak Abd Malek, Pn Sharifah Salwa Abu Bakar, Administrator, CILTM, Dr Chook Ka Joo, TAR UC Vice President, Dr Oo Pou San, TAR UC Vice President, Mr Wee Chu Kok, Deputy Dean of FAFB.
Adding another feather to its cap and further reinforcing its reputation as a leading provider of excellent professional business education, TAR UC's Bachelor of Business (Hons) in Logistics and Supply Chain Management received accreditation from the Chartered Institute of Logistics and Transport Malaysia ('CILTM') on 20 August 2018.
CILTM President, Dato' Ts Abd Radzak Abd Malek, visited TAR UC on the aforementioned date to present the certificate of accreditation to Datuk Dr Tan Chik Heok, former President of TAR UC.
This accreditation from CILTM will allow TAR UC's Bachelor of Business (Hons) in Logistics & Supply Chain Management programme to be recognised as equivalent to CILT Professional Qualification and students will also be able to register as an Affiliate Member which would present them with opportunities to attend global events such as the CILT Annual Conference and join special interest groups such as the Young Professionals, Women in Logistics and Transport and the Senior Network. Bachelor Degree graduates will be eligible to upgrade their Affiliate Member status to Member of CILT ('MILT') after gaining 3 years of relevant working experience.
Apart from obtaining a Bachelor's Degree in Logistics & Supply Chain Management from TAR UC, membership with CILTM also provides TAR UC graduates with additional professional recognition that will lend them competitive advantage in pursuing their career in supply chain, logistics and transport locally or abroad.
"TAR UC has an exemplary track record of academic excellence for the past 49 years. We are more than happy to associate ourselves with TAR UC to help nurture future talents," commented Dato' Ts Abd Radzak. "I think that by combining CILTM's global recognition with TAR UC's excellent tradition in developing young talents, future logisticians will be able to successfully contribute to the nation's economy and also other parts of the world," he said.
Adding on to this, Datuk Dr Tan remarked that this recent accreditation from CILTM further underlines TAR UC's focus in providing professionally driven education.
"The synergy between both parties complements each other well and provides our logistic and supply chain management students and graduates with an added advantage as they would be able to apply for internship placements or even search for job opportunities through CILTM," he said. "The response from students have been overwhelming, about 85 from the first batch of students have already registered to become Affiliate Member."