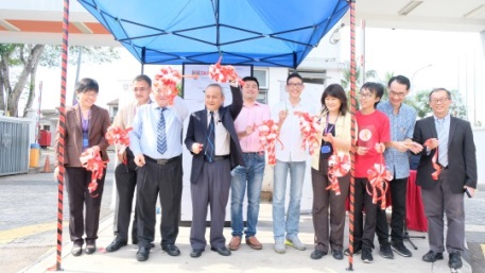 The launch of Boxify, TAR UC's very first iSpark entrepreneurial start-up.
Datuk Dr Tan Chik Heok, addressing the audience on the entrepreneurial culture that is embedded in TAR UC.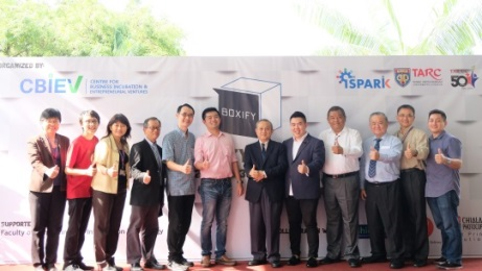 Senior management and staff of TAR UC and industry representatives giving a thumbs-up on stage, during the launching ceremony of Boxify.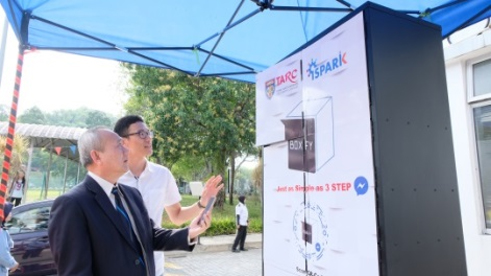 Datuk Dr Tan Chik Heok (in jacket), activating the locker by scanning the QR code.
On 20 August 2018, staff, students and representatives from the industry witnessed a milestone event at TAR UC, the launch of Boxify, the very first iSpark entrepreneurial start-up at TAR UC.
Boxify is a project by students of the Faculty of Computing and Information Technology ('FOCS') that attempts to solve problems of goods delivery issues between TAR UC and business vendors, by creating a locker that can be operated using a QR code.
This entrepreneurial idea was first surfaced in iSpark programme, which is a platform for TAR UC students to bring forth their business ideas, develop ideas into business models and subsequently assist them to source for potential investors to invest in their business models leading towards establishing their own start-ups. It comes under the Centre for Business Incubation and Entrepreneurial Ventures ('CBIEV') which was established to provide support, guidance and resources to TAR UC students, staff, alumni and public to connect, share ideas, learn, network and develop their start-ups on campus.
During the launch, Professor Dr Lim Tong Ming, Director of CBIEV, spoke about how this start-up project came about. "A lot of hard work was put in for the past 3 months to get the project off the ground. The students and lecturers worked together to bring the idea to fruition with the help of an entrepreneurial ecosystem that has already been put in place and the resources necessary to enable them to think out of the box in coming up with something innovative and creative. This marks an important milestone for TAR UC," he said.
Datuk Dr Tan Chik Heok, former President of TAR UC, on the other hand, spoke at length about how this entrepreneurial culture started at TAR UC. "My vision for TAR UC is different from other institutions of higher learning. Our students are very entrepreneurial in nature and are successful in the industries. Back in the early days, our students used to venture into entrepreneurial activities because they had to find ways and means to supplement their income to support themselves and their families when they went out to work after they graduated. But, now, our students are encouraged to venture into entrepreneurship, as it is good to have their ideas commercialised in this day and age," he said.